Virginia Dispensary License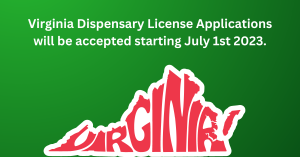 If you're interested in obtaining one of the coveted 400 Virginia Cannabis Dispensary Licenses, also known as a Pharmaceutical Processor Permit, continue reading.
A Virginia Cannabis Dispensary License is the legal document that enables a Virginia business owner to start and run an adult-use marijuana dispensary. Virginia Dispensary License Applications will be accepted starting July 1st 2023. The Board will authorize and grant 400 Virginia Cannabis Retail licenses and the license holder will be allowed the following: 
buying or seizing from a marijuana wholesaler retail marijuana;

retailing marijuana products, immature marijuana plants, or retail marijuana seeds; and 

Selling retail marijuana products and seeds and immature marijuana plants.
The Virginia Control Authority holds the power to regulate medical marijuana through state-licensed businesses. Recently, Virginia legislators pushed for the sale of recreational marijuana to begin sooner rather than later in January 2024. As a result, current medical marijuana dispensary owners could sell marijuana for adult use.
To obtain a Virginia Cannabis Retail Dispensary License, you must have a solid overall plan to submit with your Virginia Dispensary application. Our expert team at All Cannabis Licenses can assist your team with every aspect of this process.
It's important to get ahead of the competition, and begin the entire process well before Virginia Dispensary License Applications are accepted on July 1, 2023.  So when July 1st 2023 rolls around, you already have repour with the city/state, and can submit a perfect application on the start date.
If you would like full service assistance with obtaining your Virginia cannabis dispensary license, we can help!
Our services include: writing your business plan, conducting property searches to find you a properly zoned Virginia Dispensary location, we provide SOP's, and Virginia cannabis dispensary license application assistance. We'll speak to the city/state on your behalf, and make sure you're set up for approval.
Contact us today to learn more.
The initial Virginia Cannabis licenses will be distributed in the following categories, with their respective caps.
Virginia Cannabis Dispensary License Info & History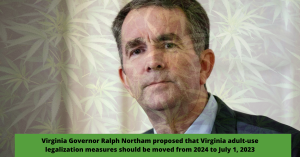 The amendment was rooted in the offer of Virginia Governor Ralph Northam. He proposed that adult-use legalization measures should be moved from 2024 to July 1, 2023. Eventually, the Virginia General Assembly approved the proposal. 
 Virginia approving the law made it the first state in the South to legalize marijuana use. There are several reasons why Virginia finally legalized marijuana; some of these reasons are listed below.
 A recent poll shows that 68 percent of people in Virginia have dominant support for the state's adult recreational marijuana usage legalization.
Speaker Eileen Filler-Corn took the initiative in supporting the legalization of cannabis sales and possession within the state. The speaker claims that the law would make the criminal justice system in Virginia "fairer." It would also end the discrimination against people of color who possess cannabis. 

Similar legislation, HB 2312 and SB 1406 in VA will create a framework for adult-use cannabis legalization, taxation, and regulation. Virginia's legalization of marijuana might generate millions in tax money.
 Later, during the final voting in February 2021, the House and Senate approved the identical House Bills. Among the provisions are the following:
the legalization of marijuana possession for as much as one ounce;

the beginning of legal marijuana sales; and

regulations that will be implemented to manage Virginia's marijuana market.
As per HB 2312, the application process for licenses begins with the submission of an application on a form issued by the cannabis authority and a written declaration from the applicant declaring and affirming that all of the information on the application is true.
Highlights of Virginia Cannabis Dispensary License Info 
Cannabis businesses will become widespread throughout the state. There will also be a reassessment for every 100 licenses issued.

From July 1, 2023, through January 1, 2024, social equity applicants will be given preference, whereas regulators will waive a portion of the application expenses.

The Cannabis Control Authority is responsible for establishing a legal organization in July 2021 to oversee Virginia's adult-use cannabis industry. A five-member Board of Directors will also make rules, awarding, canceling, or suspending licenses and levying penalties.
 Virginia is the 12th most populous state in the country; hence, it will be one of the more significant marketplaces to establish a cannabis business. By 2022 Virginia's leisure sector is estimated to generate revenues of $400 million to $500 million and $1.2 billion to $1.4 billion in 2025.
How to Apply for a Virginia Cannabis Dispensary License
As mentioned, Virginia approved five licenses to operate medical cannabis in 2018. You can expect that application and licensing fees for the adult-use market will match or exceed these sums. When the application procedure was active in 2018, each applicant contributed a "non-refundable application fee of $10,000" in addition to an "initial permit charge of $60,000". 
 In order to obtain a Virginia Cannabis Dispensary License, the process is quite complex. We help with every aspect of this, assisting you with LLC Formation (if necessary), creating business plans, conducting property searches, providing SOP's and fully completing your entire Virginia Cannabis Dispensary License Application. This may include us speaking to the state and city council on your behalf. We have a proven track record and have never been denied a license. Contact us for help obtaining your VA Dispensary Cannabis license!
Interested entrepreneurs must apply for a "Pharmaceutical Processor Permit." According to the Virginia Board of Pharmacy website, the following standards are employed in a point system to grant medical licenses in the state: 
Financial standing (

available finances / proof of funds)

The area within the proximity of health services

Safety Plan

Authentication for Business

Participation in Industry and Disciplinary Action

Knowledge of Agriculture, Production, and Dispensing

Marketing Strategy

Overall Virginia Cannabis Business Plan

Exterior and blueprint of the facility

Site and Product Safety

Expected Operating Hours
 The adult-use VA Dispensary retail cannabis application procedure will likely include many of these criteria, even if they have been used for the Virginia medical dispensary application process. It's strongly advised to keep up to date with the new Virginia Cannabis Control Authority for details.
Application Notices For Virginia Cannabis Dispensary License
Each applicant will be required to publish a notice of application on the building, location, or room's front door:
 The notice will be posted for a maximum of 30 days and a minimum of 10 days.
The adult-use marijuana licensing authority will determine the size and content.

Any possible objections must be made to the licensing authority within 30 days of the notice's initial posting.
The applicant must post a notice in a newspaper published in or with general distribution in the business' location at least once per week within two weeks. 
The adult-use marijuana licensing authority will choose what information is included in the notification.

Any objections should be passed to the licensing authorities 30 days after the date of the original newspaper publication.
Background Check For Virginia Cannabis Dispensary Retail License Applicants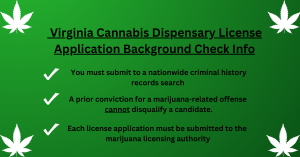 The Virginia cannabis licensing authority will undergo background information for each license applicant. The checking must involve a search of their criminal history records, including a nationwide criminal history records search based on fingerprints: 
If a sufficient reason is presented, the Board may waive the necessity for a background check.

A prior conviction for a marijuana-related offense cannot disqualify a candidate.

Each license application must be submitted to the marijuana licensing authority, which must notify the local governing body. The local governing bodies have 30 days to oppose the license being granted.
Virginia Cannabis Dispensary Retail License Application Fee
How much does the application fee cost to obtain a Virginia cannabis dispensary retail license? 
A $10,000 non-refundable application fee with the initial application.

The initial permit costs $60,000. This includes the application fee and all other necessary paperwork.

To assure your business and application are fully compliant allocate ~$15,000-$25,000 for Cannabis License Expert Consulting.
 All necessary city/state payments must be submitted to the Board.  
Meanwhile, HB 2312 provides the following details in relation to the license fees: 
When the application is submitted, all fee's must be paid (unless a fee is waived or discounted for qualified social equity applicants).

The amount will be in addition to what the FBI or the Central Criminal Records Exchange charges the Department of State Police to process any fingerprints for each background check.

The price is not refundable and must be paid in addition to the state license charge.
The Board has the power to raise the cost of state licenses. The Board must only raise fees once every three years and base the number of such increases on the consumer price index. The Board must notify all licensees and the general public of its intention to impose a fee increase and the increased fee that would be necessary for any license affected by the Board's proposed fee increases before enacting any state license fee increase. If the Board decides to increase state license costs in a given year, the notification must be given on or before November 1 of that year, and the new prices will take effect on July 1 of the following year.
Record Keeping For Virginia Dispensary Licenses
Every licensee must submit and keep up-to-date records of the information needed for licensing with the marijuana licensing authority. It also includes immediate notice to the licensing authority of any changes to that information in compliance with the rules. Every license application must be submitted on a form that the licensing body provides.
State regulation For Virginia Dispensary Licenses
The Virginia Cannabis Control Authority governs the cannabis adult-use program using state-licensed businesses. Meanwhile, the Board of Directors can grant, suspend, or revoke the regulations and licenses. 
Additionally, the medical cannabis industry in Virginia, like other medical cannabis industries, takes many of its rules, regulations, and organizational structures from the pharmaceutical sector. The Virginia Board of Pharmacy regulates Virginia medical cannabis. The
Boards of pharmacy refer to physicians, specialists, and pharmacists creating and defending public health policies. Each of these groups functions independently inside a particular state.
 The Virginia Board of Pharmacy manages the laws, regulations, and licenses of the medical cannabis sector. For instance, the managing body will require medical dispensaries to have a proportional number of pharmacists relative to the number of interns, technicians, and trainees for pharmaceutical processors. These pharmacists, who play a crucial decision-making role in Virginia's dispensaries, must be present in medical dispensaries. 
Anyone interested in working in the Virginia cannabis market must carefully follow the Virginia Board of Pharmacy guidelines for applications, licensure, and operations.
License Caps For Virginia Dispensary Licenses & Other Virginia Cannabis License Types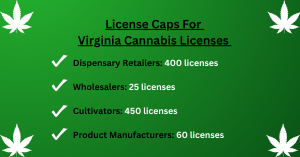 The Virginia marijuana licensing body determines the number of licensees. These are the maximum number of licenses being granted in Virginia.
 Dispensary Retailers: 400 licenses

Wholesalers: 25 licenses

Cultivators: 450 licenses

Product Manufacturers: 60 licenses 
These license caps do not account for existing hemp processors and medical cannabis firms. The licensing authority will also set standards for evaluating new licensees based on the concentration of retail establishments in the neighborhood and considering any detrimental effects on the neighborhood's public health.
Social Equity Applicants For Virginia Dispensary License
By giving social equity applicants priority, the bill encourages inclusivity. According to the bill, "social equity applicants" refer to those with 66 percent or more owners who: 
committed a prior marijuana conviction;

have a close relative who was convicted of marijuana use;

live in a place where cannabis arrests are disproportionately high or in a place where the economy is struggling; and

graduated from an HBCU in Virginia
 Priority will be given to applicants that support social equity between July 1, 2023, and January 1, 2024. The regulators will also waive a portion of the application expenses.
Additional Regulations Established in the Bill
The legislation also establishes a Cannabis Business Equity and Diversity Support Team. The team identifies inclusion-related obstacles, provides technical support, carries out outreach, and sets specifications for diversity, equity, and inclusion strategies. 
A new 21-member Cannabis Public Health Advisory Council would evaluate and track the effects on public health and provide suggestions. 
The suggestion calls for warnings about the security and composition of cannabis products and raising public awareness. The measure mandates seed-to-sale tracking, packaging, labeling standards, and the availability of state-generated risk information at the point of sale. The rules would cover outdoor growing, sanitation, testing, and advertising. 
 Lastly, officials would develop rules for personal home production that would protect the public's health and safety and prevent issues like odor and kid protection.
Timeframe of the Bill
Governor Terry McAuliffe approved two bills that offered epileptic patients prescribed CBD or THC-A oil as an affirmative defense. 
Governor McAuliffe approved SB 1027, making it possible for anyone with uncontrollable epilepsy to obtain cannabidiol (CBD) or THC-A oil.
Governor McAuliffe approved House Bill 1251, which allows cannabidiol (CBD) or THC-A oil to treat any diagnosed illness or disease. The program is determined by a medical professional. It was the same year when five licenses for Pharmaceutical Processors were given when the Virginia Board of Pharmacy closed applications. 
Beginning on July 1, 2019, people could apply for the program through the state Board of Pharmacy with their doctor's approval. The state broadened its medical marijuana regulations to allow more people access.
Legislators in Virginia approved SB2, a bill to legalize marijuana.
Virginia legislators approved HB 2312, a plan that will legalize the sale of marijuana for recreational use beginning in 2024.
Taxes established on the bill
The Board would choose the fees, which might go up with time.

The proceeds would be distributed to the following programs after covering regulatory expenses: pre-kindergarten education for at-risk kids (40%); a Cannabis Equity Reinvestment Fund (30%); substance abuse treatment and prevention (25%); and public health programs (5%).

The members of the Cannabis Equity Reinvestment Board, which compose of twenty that oversee the Cannabis Equity Reinvestment Fund, would allocate cash from the fund to:
scholarship programs for historically underrepresented groups, including foster children and those affected by substance abuse; 
funding for reintegration programs, workplace development, youth mentorship, and job training and placement;

by donating to the Indigent Defense Fund of the state; and

For applicants for social equity, there are no low-interest loans.
Conclusion
From 2015 to the present, making cannabis legal has become a major development in Virginia. There is no denying that cannabis is dominating many nations. Since Colorado legalized marijuana for recreational use in 2013, most U.S. states have done so in some way. Early in 2021, 15 states had legalized cannabis for adult use, while 36 had established medical cannabis programs. Virginia has followed suit by starting a medicinal cannabis sector and passing legislation to legalize cannabis for adult use. 
If you are interested in learning more about starting a cannabis business in Virginia, do not hesitate to reach out. Also, we want to help get you a Virginia Dispensary License. This is what we do! We can help expedite your cannabis license applications. Contact us for more information.
FAQ
How do you get a dispensary license in Virginia?
 According to HB 2312, submitting an application on a form from the cannabis authority and a signed declaration from the applicant stating and affirming that all of the information on the application is true are the first steps in the license application procedure. 
Be advised that applicants for establishment licenses requiring Department of Agriculture and Consumer Services inspections must provide proof of an inspection that has already occurred or that an inspection request has already been made. They may apply for a license but can only sell marijuana-related goods once an inspection is complete. 
How much does it cost to open a dispensary in Virginia?
There is a $10,000 non-refundable application fee that you must submit to begin opening your dispensary in Virginia. The next step involves a $60,000 permit cost. It's safe to say around $100,000 total. This will cover all application fees and expert consulting fees necessary.  
How do I write a business plan for a dispensary?
Be enthusiastic, professional, concise, and thorough when producing a superb dispensary business plan, to name a few general guidelines. Use concise language and avoid acronyms and buzzwords. We will write your entire Virginia Cannabis Dispensary business plan! Contact us today. 
How do you start Cannabusiness?
By following the easy methods listed below, anyone can launch a cannabis business:
Make sure you have enough capital allocated

Choose the cannabis business model that you wish to launch.

Register your company name and legal structure.

Apply for licenses and permits for your cannabis business.

Calculate your tax obligations.

Concentrate on growth and branding.