Virginia Cannabis Cultivation License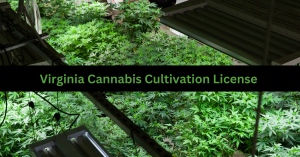 450 Virginia Cannabis Cultivation Licenses are being granted in 2024, and applications will be accepted on July 1, 2023. This article will focus on the Virginia Cannabis Cultivation License Application, Rules, Costs, and all the related topics. Continue reading to learn everything about obtaining your Virginia Cannabis Cultivation License, Virginia Cannabis Growers License,  Virginia Commercial Cannabis Cultivation License.
Virginia marijuana legalization takes the spotlight, thanks to House Bills 1406 and 2312. The two House Bills made the legalization of Cannabis in Virginia possible. As a result, Virginia is now the 16th state in the U.S. to legalize marijuana for adult use. 
The Virginia Control Authority is the governing body that will oversee the legal process related to cannabis. Specifically, it comprises five boards of Directors who shall implement regulations, issue cannabis licenses, and oversee the cultivation, manufacture, and sale of retail marijuana-related products. Furthermore, the body creates four types of licensed operators, which include:  
Testing & Transport licenses are being discussed for the future. 
Virginia Cannabis Cultivation License Types
The Virginia Cannabis Cultivation License is a license for marijuana production that enables the growing, labeling, and packing of marijuana for retail purposes. The license would also acquire marijuana seeds and plants from other cannabis cultivation facilities. Under the terms of this license, one may have permission to sell retail cannabis, immature marijuana plants, and seeds to other licensed wholesalers and stores. It also covers transferring the possession and sale of marijuana-related products to other cultivation and manufacturing facilities and retail marijuana to consumers for personal use. 
There are also two Virginia Cultivation license types to consider under this license. 
Class A cultivation facility license.

It allows the Virginia Cannabis Cultivation licensee to cultivate marijuana in a space that is not bigger than the necessary amount of square feet. Additionally, the Board will determine the maximum number of marijuana plants.
Class B cultivation facility license.

 It allows for the growth of marijuana plants with a maximum tetrahydrocannabinol content of one percent. It is based on post-decarboxylation measurement.
 The Virginia Cannabis Cultivation License board will determine the exact number of plants in every square foot. However, the decision could be stressful for farmers who must start planning for potential land purchases, development, infrastructure, and lighting. 
Contact us for full-service assistance with obtaining your Virginia Cultivation License!
Our services include: writing your business plan, and conducting property searches to find you a properly zoned Virginia Cannabis Cultivation location. We provide Standard Operating Procedure Documents and Virginia cannabis Cultivation license application assistance. We'll speak to the city/state on your behalf and make sure you're set up for approval. 
Contact us today to learn more.
Virginia Cannabis Cultivation License Application Fees & Costs
The cost of a Virginia cannabis growing facility license has not yet been made public by the Cannabis Control Authority (CCA). Before July 1, 2022, the CCA cannot enact rules governing the licensing of cannabis industry activities. As a result, applications for licenses to operate recreational cannabis production facilities cannot start until July 1, 2023. Consequently, there is no set cost to open a marijuana cultivation operation in Virginia. 
However, an application cost of $10,000 is required for a pharmaceutical processor permit, which allows owners to grow medical marijuana and give it to authorized patients. In addition, successful candidates must pay a $60,000 charge before getting their licenses. Permits to operate as a pharmaceutical processor are only good for one year and must be renewed each year. A pharmaceutical processor permit in Virginia costs $10,000 to renew. Set aside ~ $15,000-$25,000+ for Virginia Cultivation License expert consulting services to ensure you have everything correctly set up with the city/state. 
In connection, HB 2312 requires the following regarding the license fees: 
They must be compensated when the application is submitted (except that the fee is discounted for qualified social equity applicants).

The sum will be in addition to the fees the Department of State Police pays to the FBI or the Central Criminal Records Exchange to process any fingerprints for each background check.

The cost must be paid on top of the state license fee and is not refundable.
The Board may increase the cost of state licenses. Based on the consumer price index, the frequency of fee increases is limited to once every three years. Before adopting any state licensing price increases, the Board must notify all licensees and the general public of its intention to impose a fee increase and the higher fee required for every license affected by the proposed increase. The new pricing will go into effect on July 1 of the next year if the Board votes to raise state license fees in a given year. The decision must be announced on or before November 1 of that year.
It is also unlikely that some parts of the medical marijuana regime's production rules will influence the laws governing recreational marijuana use. Virginia's medical marijuana regulations suggest that Pharmaceutical Processors are limited to maintaining no higher than 12 marijuana plants in every patient in a given time based on dispensing data from the past 90 days. Simplifying the equation while avoiding limiting the growth of plants to an unprofitable point will be a key concern as the Authority gets started. 
 How To Get a
Virginia Cannabis Cultivation License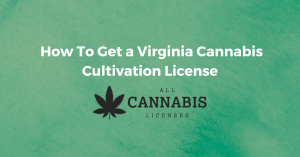 Generally, any licensee applicant should satisfy the following procedures. 
Apply to The Cannabis Control Authority. In addition to paying a fee, applicants must secure all necessary documents with their applications. They will also have to assess the authenticity of the given information.

Complete a background investigation by the police in the vicinity of the area.

Inform the public about the applications on the front of the building for ten to 30 days. 

For two weeks, they should publish a public notice in a newspaper with wide distribution in the business area once a week. 

Ensure to keep proper records.
The Cannabis Control Authority (CCA) will notify the public when applications for licenses to operate marijuana production facilities become available. To get information from the CCA about license availability and other updates, one may sign up on the CCA website. 
Currently, Virginia's Pharmaceutical Processor permit is the only document needed to grow marijuana lawfully for commercial use. According to the state's medicinal marijuana laws, this license is given to eligible residents and organizations. For each patient, the holder of a pharmaceutical processor permit is allowed to grow and care for up to 12 cannabis plants at any given time. 
 The applicant must submit a completed Application for a Pharmaceutical Processor Permit Form with the necessary documents to be granted a pharmaceutical processor permit in Virginia. 
Twelve hard copies (printed), including one labeled "ORIGINAL."

Twelve digital copies (on USB devices or DVDs). 
All the supporting documents should be delivered to the address below: 
Department of Health Professions
Board of Pharmacy
Perimeter Center
9960 Mayland Drive,
Suite 300
Henrico, VA 23233
 Having your Virginia Cannabis Cultivation Application approved by the state goes far beyond submitting your application by itself. The state wants to know you can run a business from the start, and you must provide them with a business plan, in-depth SOP's, proof of capital, and many other essential line items. Our expert team at All Cannabis Licenses can help you obtain a Virginia Cannabis Cultivation License at whatever stage you're currently at. We have never been denied a cannabis application. 
Contact us today for full-service support.
Additionally, a non-refundable application fee must be paid when submitting a processing permission application. For the license holders to continue to enjoy their legal rights, pharmaceutical processor permits must be renewed after their initial year of validity. 
The Board of Pharmacy publishes Requests for Applications (RFAs) to gather applications for licenses to work as pharmaceutical processors in specified Health Service Areas (HSA). Up to five permits, one for each recognized HSA, may be issued or renewed by the Board. 
Virginia Cannabis Cultivation License Application Notices
Concerning the Virginia Cannabis Cultivation Application notices, the license candidates should post a notice on the front door of the establishment proposed to engage in a cannabis business. The following guidelines should also be considered related to notices.
 The notice will be posted for a maximum of 30 days and a minimum of ten days.
The cannabis licensing authority will determine the size and content of the poster.

Any objections must be made to the licensing Authority within 30 days of the notice's initial posting.
 The applicant for a cannabis cultivation license must post a notice in a published newspaper with a general readership in the area where the cannabis business will be situated at least once per week for two weeks.
 The adult-use cannabis licensing body will choose what information is included in the notification.
Any objections shall be addressed to the licensing authorities by 30 days after the date of the original newspaper publication.
Background Check
Each Virginia Cannabis Cultivation license applicant will have their background checked to be conducted by the licensing authorities. The checking will include a closer look at their criminal histories, including a countrywide fingerprint-based lookup. 
The Board can forgo a background check if a compelling argument is made.

A prior marijuana-related conviction cannot bar a candidate from running.

The marijuana licensing authority must receive every application for a license, and it is its responsibility to inform the local governing body of this. The municipal authorities have 30 days to contest the license's issuance.
Record Keeping
Each Virginia cannabis cultivation license holder must submit and maintain current records of the data required for licensing with the marijuana licensing authority. It also entails giving the licensing Authority prompt notification of any updates to such information made under regulations. A form provided by the licensing agency must be used to submit every license application.
State Regulation 
The Virginia Cannabis Control Authority manages the adult-use cannabis program through state-licensed businesses. The Board of Directors can grant, suspend, or revoke the rules and licenses in the interim.
 Additionally, the Virginia medical marijuana industry, like other medical cannabis sectors, draws many of its organizational principles and guidelines from the pharmaceutical industry. The Virginia Board of Pharmacy governs Virginia medical cannabis. Physicians, specialists, and pharmacists are referred to as boards of pharmacy when developing and defending public health policies. In a specific state, each of these groupings runs separately.
 The Virginia Board of Pharmacy oversees the laws, rules, and licenses governing the medicinal cannabis industry. For example, the controlling body will mandate that medical dispensaries have an equivalent number of pharmacists as the interns, technicians, and trainees employed by pharmaceutical processors. These pharmacists must be present and are essential to the decision-making process at Virginia's dispensaries. 
Anyone who wants to work in the Virginia cannabis industry must strictly adhere to the regulations set forth by the Virginia Board of Pharmacy for applications, licensure, and business practices.
Virginia Cannabis License Caps
The marijuana licensing authority decides the number of licensees. Hence, they are limited to the following: 
Virginia Cannabis Cultivator Licenses: 450 licenses

Dispensary Retailers: 400 licenses

Wholesalers: 25 licenses

Product Manufacturers: 60 licenses
 These license caps do not consider the existing hemp processors and medical marijuana businesses. Based on the concentration of retail outlets in the district and taking into account any negative effects on the public health of the neighborhood, the licensing Authority will also create guidelines for reviewing new licensees.
 In connection, although Virginia's new legalization plan forbids it, all of the state's medicinal cannabis license holders already operate vertically integrated businesses. The measure states they can maintain vertical integration after submitting a diversity, equality, and inclusion strategy for a nominal price of $1 million.
 Virginia Cultivation License
Social Equity Applicants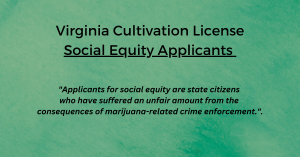 According to Virginia marijuana legislation, anyone with a valid license for a growing facility or a pharmaceutical processor is allowed to cultivate marijuana. Legalizing recreational marijuana in Virginia prioritizes applications from people of color and creates a Cannabis Equity Reinvestment Board to help these people. Applicants for social equity are state citizens who have suffered an unfair amount from the consequences of marijuana-related crime enforcement. Virginia statutes aim to remedy the historical abuse of the criminal justice system against some communities and people, as well as its violence and disinvestment. By concentrating on areas where the drug war has a disproportionately severe impact, the state hopes to build an inclusive market.
 The applicant must pass under certain conditions for Virginia Cannabis License social equity status approval. It includes up to 12 months of residence in the Commonwealth of Virginia. Furthermore, the following conditions should also count with at least 66 percent:
 Individuals who have been found guilty of misdemeanor marijuana-related offenses or have been declared delinquent;
Person or persons with a relationship with someone convicted of a misdemeanor marijuana law offense or who was declared delinquent;

People who have spent at least one year in a region that has experienced disproportionate marijuana crime reactions in the previous five years;

Individuals who have spent at least three of the previous five years living in economically struggling areas; and

A person who graduated from an HBCU, in the Commonwealth of Virginia.
 From July 1, 2023, until January 1, 2024, social equity candidates will be given preference, and authorities will waive a portion of their application expenses.
 Can I Obtain
Multiple Virginia Cannabis Licenses?
The Cannabis Control Authority (CCA) is authorized by Virginia's adult-use cannabis laws to grant "certain persons" interests in a variety of cannabis license categories. However, the definition of "certain persons" is not defined in the law, and the CCA is expected to clarify this when it adopts the rules for licensing cannabis businesses. The short answer is yes, you can apply for multiple Virginia Cannabis License Types. This falls under a Virginia Cannabis Microbusiness License.
Contact us to learn more about obtaining multiple VA Cannabis licenses.
Additional Regulations Established in the Bill
Additionally, the legislation creates a Cannabis Business Equity and Diversity Support Team. The group analyzes barriers to inclusion, offers technical assistance, does outreach, and establishes diversity, equity, and inclusion measures guidelines.
 A brand-new, 21-member Cannabis Public Health Advisory Council would assess, monitor, and make recommendations about the effects on public health. The concept asks for educating the public and issuing warnings regarding the safety and makeup of cannabis products. The law requires packaging, labeling, seed-to-sale tracking, and the availability of state-generated risk information at the point of sale. The regulations would cover sanitation, testing, promotion, and outdoor cultivation. 
Lastly, authorities would create regulations for private home production that would safeguard the public's health and safety and stop problems like odor and child protection.
Virginia Employment Protections For Marijuana Use
The governor of Virginia, Ralph Northam, signed new policy protection for workers relating to the use of cannabis oil for medical purposes into law on March 25, 2021. Last July 1, 2021, the recently passed 40.1-27.4 will make it illegal for employers to discipline, fire, or treat an employee unfairly. The law protects the employees because of their lawful use of cannabis oil. Hence, the employees should provide that the use of marijuana is authorized by a valid written certification from a medical professional for the treatment of the employee's identified condition or disease.
The new law only applies to "cannabis oil," which has a narrow definition under Virginia law. The law defines it as any formulation of a processed cannabis plant extract. The cannabis oil can be made from industrial hemp extract that a pharmaceutical processor purchased. It also may be from a diluted version of the resin from the cannabis plant that contains psychoactive compounds.
However, the new rule also has several exclusions, even though it is drafted broadly to forbid any punishment, dismissal, or discrimination. The new law specifically states that it does not: 
Restrict an employer's right to take adverse employment action for any work impairment brought on by the use of cannabis oil or forbid possession during work hours;

Compel an employer to take any action that would put the employer in violation of federal law or result in the loss of a federal contract or federal funding; 

Mandate that any employer in the defense industrial base sector hires any candidate or worker who tests positive for THC above a predetermined threshold. 
These statutory exceptions' actual practical impact is still a mystery. It is unclear how these legal exceptions will interact with current protections under state law for disabled employees, particularly those prescribed cannabis oils to treat an existing disability. For instance, the new law permits employers to prohibit the use of marijuana oil during working hours. It also allows employers to grant action for any work-related issues caused by cannabis oil. For instance, the Virginia Human Rights Act outlaws discrimination based on an employee's disability and mandates companies to hire disabled employees. Still, the new statute offers no advice on how it would work in conjunction with the act. It is unclear whether the use of cannabis oil "during working hours" will ever be considered justifiable or whether employers will be able to claim that the use of cannabis oil "during working hours" is inherently unreasonable by citing the express exceptions in the new law. 
Along with these protections, Virginia's marijuana use and possession law has undergone more substantial revisions. As mentioned in an article last year, Virginia has passed "ban the box" legislation prohibiting employers from asking job candidates about any arrests, charges, or convictions related to simple marijuana use.
Additionally, starting on July 1, 2021, adults over 21 can grow up to four marijuana plants for personal use and possess up to an ounce of marijuana. The limited protection for the medical use of cannabis oil is the only employment-related protection for marijuana use or possession. Employers are still free to forbid its use and subject workers to marijuana drug tests.
Employers should be aware of potential employment-related effects from existing (and future) legislation as Virginia's marijuana laws continue to change.
Drug Testing Policy
Fortunately, employers can maintain a secure workplace, avoid on-the-job drug usage, and adhere to industry rules by testing job applicants for cannabis. However, an increasing number of states have enacted or are debating laws decriminalizing or legalizing marijuana usage. Several proposed measures would make the drug legal on a national level.
Decriminalization vs. Legalization
It is critical to comprehend the distinction between legalization and decriminalization.
Decriminalization means that although cannabis possession for personal use is still prohibited, most cases do not result in criminal charges. Instead, violations are handled like traffic infractions and, depending on the law, may result in a fine, a citation, or a referral for drug treatment. Currently, marijuana usage is not a crime in several states.

Cannabis usage has become legalized, just like alcohol and cigarette use. As with cigarettes or alcohol, legislation can nevertheless regulate its usage. It applies to instances like forbidding use by minors, intoxication in public places, or consumption while operating a motor vehicle.
Recreational vs. Medicinal Use of Cannabis
Furthermore, it is also crucial to remember that states with marijuana-use laws treat recreational and medical uses of the drug differently.
Recreational marijuana

 use is viewed similarly to how alcohol or tobacco is viewed. States that approve marijuana legalization for recreational use frequently limit its use to anyone over 21 and outlaw use while driving. States may also impose restrictions on the types, quantities, and locations of recreational marijuana sales and how the drug is taxed.
Medical Marijuana can help those who suffer from chronic pain, cancer, glaucoma, and epilepsy. The standards that must be met to use marijuana for therapeutic purposes are set by each state that permits it. Some states that permit medical marijuana use limit it to CBD oil and other low-THC products. Before obtaining medicinal cannabis, laws may stipulate that one must have a medical card or a doctor's prescription or be included on a master registry. State rules may also govern where patients can buy medical marijuana (such as from an approved seller or dispensary). Users must generally be at least 18 years old, but minors may use medical cannabis with parental consent in some areas.
What Virginia Employers Need to Know About Marijuana Testing
Eliminating pre-employment marijuana tests could make it easier for some companies to attract suitable individuals. They may decide not to perform drug testing if marijuana use is lawful in the state and marijuana testing is not legally needed for the positions in question. But before making this choice, caution should be exercised.
Even if cannabis is legal in an area like Virginia, the company may still need to abide by local, state, and federal regulations while hiring. 
Due to federal, state, or municipal regulations, a pre-employment drug test may be required for some positions. For instance, employees in positions requiring a high level of safety must undergo random drug testing in businesses governed by the Department of Transportation. Delaware requires testing for jobs with the state's Department of Corrections that need a high level of security. The City of Honolulu in Hawaii tests all civil service candidates.

Some laws prevent pre-employment drug testing or forbid hiring managers from considering drug test findings. Pre-employment cannabis testing is prohibited in New York City. However, it is permitted for positions like commercial drivers, childcare providers, and police officers. It is against the law to reject an applicant for a job in Nevada because they tested positive for marijuana during a background check. 

When pre-employment testing is permitted, it is regulated by some state legislation. For instance, you might need to give a candidate verbal or written notice of your drug testing policy prior to the test. Some states do not permit testing until an employment offer with conditions has been made. You might also need to mention pre-employment drug testing in your job postings and on application forms.
Compliance with marijuana screening rules is made more difficult by the fact that laws governing which businesses or industries must do drug testing and when employers can base hiring choices on the results of drug tests differ from city to city and state to state. The maze of rules will probably get much more complicated, given where marijuana law is.
Maintaining Compliance When Drug Testing
Pre-employment drug testing procedures must satisfy the requirements of the Fair Credit Reporting Act (FCRA), the Americans with Disabilities Act (ADA), the Drug-Free Workplace Act of 1988, and the Title VII of the Civil Rights Act of 1964. These requirements also comply with federal, state, and local laws governing marijuana screening.
Businesses can support fair hiring while being competitive and compliant by creating a comprehensive policy on pre-employment marijuana screening. They can lower their risk of non-compliance and improve the quality of the recruiting decisions by using an accredited consumer reporting agency for drug testing.
Summary of the Virginia Cannabis Legalization
Since legalizing both medicinal and recreational cannabis usage in 2017, Virginia has made significant progress toward cannabis legalization. When the state decided to stop automatically suspending a person's driver's license for six months after a conviction for marijuana possession, the attitude regarding marijuana shifted in 2017. The state also approved the use of CBD for medical purposes in 2017. 
Virginia created a thorough medical cannabis law in 2017, which is now codified in Virginia Code Annotated 54.1- 3442.1 et seq. The law allows doctors to prescribe cannabis extracts with no more than 10 milligrams of THC per dosage to patients with terminal illnesses. Legislators also approved a measure in February 2021 allowing dispensaries to give patients raw marijuana flowers. Through the Virginia Board of Pharmacy, patients and providers must register and pay a $50 registration fee. 
With the approval of HB 2312 and SB 1406, Virginia became the first Southern state to legalize marijuana for adult use on April 7, 2021. Possessing up to one ounce of cannabis should be for a person 21 years of age or older, and they may also produce up to four cannabis plants as long as they are marked with the grower's identity. Additionally, Virginia's Cannabis Control Authority had the Authority to grant business licenses as of July 1, 2021, with marijuana sales expected to start in 2024. 
On July 1, 2022, one year after marijuana became legal in Virginia, Governor Glenn Youngkin approved the 2022 budget bill. This bill included wording that made actions involving the private possession of more than four ounces of marijuana in public once again illegal. According to the legislation, the first conviction of this Class C misdemeanor carries a $500 punishment. According to the legislation, all subsequent violations would be subject to up to a six-month jail sentence and a $1,000 fine..
How Can We Help you?
If you are interested in learning more about starting a cannabis business in Virginia, do not hesitate to reach out.
We can help get you a Virginia Cannabis Cultivation License and help expedite your cannabis license applications. Our services include: writing your business plan, and conducting property searches to find you a properly zoned Virginia Cannabis Cultivation location. We provide Standard Operating Procedure Documents and Virginia cannabis Cultivation license application assistance. We'll speak to the city/state on your behalf and make sure you're set up for approval. Contact us today to learn more.
FAQ
What happens if you grow more than 4 cannabis plants for personal use in Virginia?
According to the law, people may only grow marijuana plants in their primary residence. A violation of this clause will result in the following penalties:
Possessing more than four marijuana plants but fewer than ten marijuana plants should equate to the following subsequent offenses: (i) a $250 civil fine for a first violation, (ii) a Class 3 misdemeanor for a second violation, and (iii) a Class 2 misdemeanor for a third offense.

a Class 1 misdemeanor for having more than ten but fewer than 49 marijuana plants in one's possession;

a Class 6 felony for having more than 49 but fewer than 100 marijuana plants in one's possession; and

A felony that carries a sentence of not less than one year nor more than ten years in jail, a fine of not more than $250,000, or both is possession of more than 100 marijuana plants.
How many marijuana plants can you grow in Virginia?
Each home with a member 21 years of age or older is permitted to cultivate up to four cannabis plants for personal use, according to the law. Additionally, a person who grows marijuana for their own use must:
Make sure that no marijuana plant can be seen from public space without the use of a plane, binoculars, or other optical devices;

Take steps to prevent anyone under the age of 21 from gaining illegal access; and

Label the plant with the owner's name, license, or other identifying number and a statement that the plant is being grown for personal use.
How many cannabis plants can you grow in Virginia with a medical card?
An authorized person may grow up to four marijuana plants for their use at home, despite the subdivision (c) restrictions of 18.2-248.1. Nevertheless, at no time shall a household contain more than four marijuana plants. 
A "household" is defined as any group of people who reside in the same home or another dwelling, regardless of whether they are related. For each of their patients, the holder of a pharmaceutical processor permit is allowed to grow and care for up to 12 cannabis plants at any given time. 
How do you get a cannabis growers license in Virginia?
Generally, any licensee applicant should satisfy the following procedures.
Apply to The Cannabis Control Authority. In addition to paying a fee, applicants must secure all necessary documents with their applications. They will also have to assess the authenticity of the given information.

Complete a background investigation by the police in the vicinity of the area.

Inform the public about the applications on the front of the building for ten to 30 days.

For two weeks, they should publish a public notice in a newspaper with wide distribution in the business area once a week.

Ensure to keep proper records.
Can you grow hemp for personal use in Virginia?
Industrial hemp can now be grown for commercial purposes in Virginia because of the amendments to the state's industrial hemp law released on March 21. However, you must be a licensed industrial hemp grower, dealer, or processor in Virginia to own hemp plants, viable hemp seed, hemp leaves, hemp microgreens, or hemp flowers. You can apply to the Virginia Department of Agriculture to get a license. Currently, Grower, Processor, and Dealer applications are being accepted on a rolling basis by the Virginia Department of Agriculture and Consumer Services. These licenses are only valid for a year after they are issued.
Can you sell hemp plants in Virginia?
Farmers in Virginia were not allowed to grow hemp to extract cannabidiol (CBD), sell it, and distribute it to people not registered with the state. The state resisted allowing the cultivators to create CBD and provide the retailers with CBD-infused goods.
Can I grow hemp in my backyard?
You must own the land you intend to use as a production field, or you must have the legal right to provide entry permission.

The $50 yearly Industrial Hemp Grower Registration application fee must be paid by the applicant and made payable to the Virginia Treasurer.

Complete the 

Virginia Industrial Hemp Grower Application

.

While corporations must complete section 1, individuals must complete section 1(a) (b). Only complete one form.

Send your application, along with the application fee, to P.O. Richmond, VA 23218; P.O. Box 526
Contact us today if you would like assistance with obtaining a Virginia Cannabis Cultivation License or any Virginia License type.